Trip Details
This is a PAST TRIP - NOT the trip for this year. To see a list of this year's UPCOMING TRIPS or PICTURES, click the links at the top of this page - thanks!



Where:
New Orleans, LA
Start Date:
Saturday, November 03, 2012
End Date:
Tuesday, November 06, 2012
Avg Age Range:
21+ (just a guideline, not requirement)
Hotel:
Multiple Hotels - See trip details for more information
Resort/Hotel Details
>>>
Click Here for Trip Packages & Pricing



THE GREEN LEGION INVADES THE BIG EASY, NOVEMBER 2ND-6TH, 2012!!

As most of you know, this isn't the first rodeo for The Green Legion in New Orleans! We have run two regular season trips there and one playoff game. Unfortunately we are looking to get back to .500 as two of those three games we didn't come out victorious. However, and as my good friend Bill Slough says it best, we have NEVER LOST A TAILGATE!! This will be no different!

THE STREETS: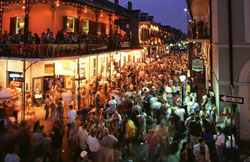 There's no short story to this trip so take a minute and let me put you in New Orleans for a little while. Upon arrival at any of our French Quarter hotels, you will find street musicians and performers along with two amazing streets of absolutely adult fun! Thankfully after trip number one, a friend showed me that there is MUCH more to the French Quarter than just Bourbon Street! Let me tell you about Decatur, "the other Bourbon Street!" Café du Monde which you know is famous is located there. On the way, you may run into a concert taking place on Jackson Square! Plenty of street vendors and enough down-home dive bars you won't know which one to go into!
Only three short blocks from there is Bourbon (Decatur and Bourbon run parallel). Great places like Bourbon Cowboy, The Beach, The Famous Door, Bourbon Street Blues Company, Pat O'Brien's, Cat's Meow, and Razzoo!! If adult entertainment is your thing, there are more gentlemen's clubs on Bourbon Street than any place in the country. There is no such thing as an "open container" law as you can go in and out of any place with drinks. Aside the bar scene, the food is AMAZING! Oysters EVERYWHERE along with crawfish! Don't forget to try gator as it is a staple food on some menus!

THE HOTELS: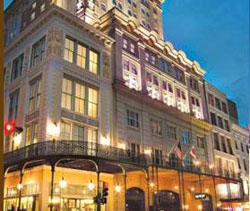 Since the advent of The Green Legion, every Monday Night Football game we have ever attended was still a standard 3-night package. We leave Saturday and come back Tuesday. The time of departure almost doesn't matter here since bars are open until 5 AM and honestly, the airport is a complete party the entire day. Our flights will depart Saturday but like we've encouraged, getting your own flights for this one are key. Anyone will be able to add a night to their package either on the front or back-end at The Legion's discounted rate. We've also managed to avoid the standard French Quarter 4-night minimum on Monday Night Football games.
So you know, we have FOUR different hotel choices for you! Our best rates for French Quarter hotels are at the Astor Crowne Plaza who we used in 2006, and thankfully, we have added our friends at the Marriott, located 2 blocks from the Astor and wedged between Bourbon and Decatur Streets. Two awesome locations! If your flavor is right in the center of the Quarter and on Bourbon Street, we have a small room block at the Inn On Bourbon! For those who seek the highest end of what we will offer, we also have a small block at the JW Marriott, right across the street from its sister hotel!

THE ENTERTAINMENT: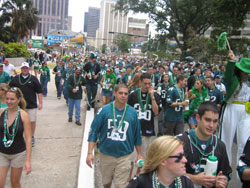 So, Friday night and Saturday night will see two of the largest bar crawls you have ever seen! We will be a force to be reckoned with on Bourbon Street and NO ONE OTHER THAN LEGION MEMBERS WILL EVEN BE ALLOWED IN THE BARS WE ARE USING!! Just like the Clevelander in December during the Pep Rally Party, the same will be applicable here. We are still negotiating the location of our Pep Rally Party and you will know soon enough!
Don't forget as well about Monday's tailgate which we are still working out the details. That will be immediately followed up by, you guessed it, The Green Legion PARADE Part DEUX!!In 2006, 3,200 people followed us into the Superdome and it was an incredible site watching a sea of Green march right through downtown New Orleans! There will be revelers, performers with giant heads, and stilt-walkers! We will do it again…with a little twist! We always have a little surprise in there for ya, and this is no different!!
AIRFARE IS SOLD OUT AS OF AUGUST 30TH!!
Prices for this trip will go up as it becomes harder to get tickets.
3-NIGHT STANDARD ASTOR CROWNE PLAZA (SOLD OUT) AND MARRIOTT HOTELS (Additional charge for airfare emailed within 72hrs):
4 people to a room - $540 per person
3 people to a room - $590 per person
2 people to a room - $700 per person
single - $1025
*ADDITIONAL NIGHTS FOR THE ASTOR CROWNE PLAZA AND MARRIOTT ARE $225/NIGHT

3-NIGHT STANDARD INN ON BOURBON (Additional charge for airfare emailed within 72hrs) - SOLD OUT:
4 people to a room - $555 per person
3 people to a room - $615 per person
2 people to a room - $735 per person
single - $1,095
*ADDITIONAL NIGHTS FOR THE INN ON BOURBON ARE $240/NIGHT

3-NIGHT STANDARD JW MARRIOTT (Additional charge for airfare emailed within 72hrs):
4 people to a room - $580 per person
3 people to a room - $645 per person
2 people to a room - $815 per person
single - $1,200
*ADDITIONAL NIGHTS FOR THE JW MARRIOTT ARE $275/NIGHT

ALL PACKAGES INCLUDE:
3-nights accommodations at respective hotels

Charter bus service to and from the airport

for those flying with us

NO LINE, NO COVER at all Green Legion Bar Crawls

NO LINE, NO COVER at The Green Legion Pep Rally Party

All the beads you can throw during The Green Legion Pep Rally Party

Your coveted Green Legion wristband that will give you discounts at many bars and restaurants

Your "Green Legion Gear" for the parade to the Superdome (beads, masks, confetti)

Your Green Legion Tailgate Party to include:

Your upper level game ticket to the MONDAY NIGHT FOOTBALL GAME between the Philadelphia Eagles and the New Orleans Saints on Monday, November 5th, 2012!!
And of course…ALL OF YOUR FACE PAINT AND EAGLES TATTOOS!!
For more information about this trip, please contact Marilyn at marilyn@greenlegion.com at 267-779-1415. If you are sending a check, please make it payable to THE GREEN LEGION and mail it to:
720 N 5th St #201
Philadelphia, PA 19123