Trip Details
This is a PAST TRIP - NOT the trip for this year. To see a list of this year's UPCOMING TRIPS or PICTURES, click the links at the top of this page - thanks!



Where:
Philadelphia, PA
Start Date:
Sunday, September 16, 2012
End Date:
Sunday, September 16, 2012
Avg Age Range:
21+ (just a guideline, not requirement)
Hotel:
No Hotel - Day Trip Only
Resort/Hotel Details
>>>
Click Here for Trip Packages & Pricing




* Live Entertainment exclusive to VIP tailgate clients!!
* Beer pong and Bag-O!!
* The Girls of The Green Legion 2013 at every tailgate!!
* The McFadden's Beer Tub Team at every tailgate!!
* A face paint and tattoo table at every tailgate!!
The Green Legion tailgate party in McFadden's at the Ballpark starts at 10:30 AM on Sunday, September 16th for the Baltimore Ravens game at 1:00 PM!!!
As always, free admission into McFadden's at our private entrance into the patio area, PLUS all you can eat food and domestic beer!
Sign up today for $30 per person if you plan on being a guest at this tailgate!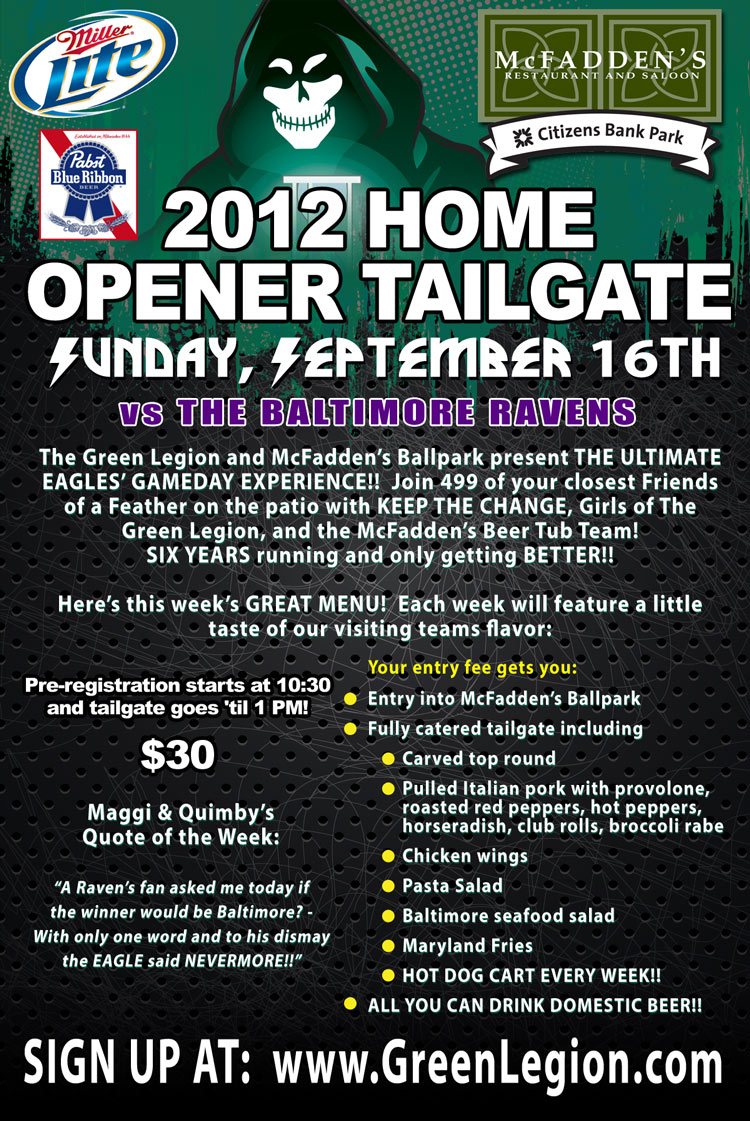 For more information, contact marilyn@greenlegion.com or alex@greenlegion.com!