Trip Details
This is a PAST TRIP - NOT the trip for this year. To see a list of this year's UPCOMING TRIPS or PICTURES, click the links at the top of this page - thanks!



Where:
Philadelphia, PA
Start Date:
Sunday, October 07, 2012
End Date:
Sunday, October 07, 2012
Avg Age Range:
21+ (just a guideline, not requirement)
Hotel:
No Hotel - Day Trip Only
Resort/Hotel Details
>>>
Click Here for Trip Packages & Pricing



THE GREEN LEGION TAILGATE IN THE PIAZZA FOR THE PITTSBURGH GAME, OCTOBER 7TH, 2012!!
Yes, the arrangements have been made! We are still figuring out the start time, but we are going to have a full smoker catered tailgate in the Courtyard at the Piazza!! $40 will cover all of your food/barbecue, and domestic draft beer FOR 4 HOURS!!!
We will be adding plenty to this event so sign up now and get ready for total awesomeness brought to you by King's Oak, Gunner's Run, PYT, Philly2Night, and The Green Legion!!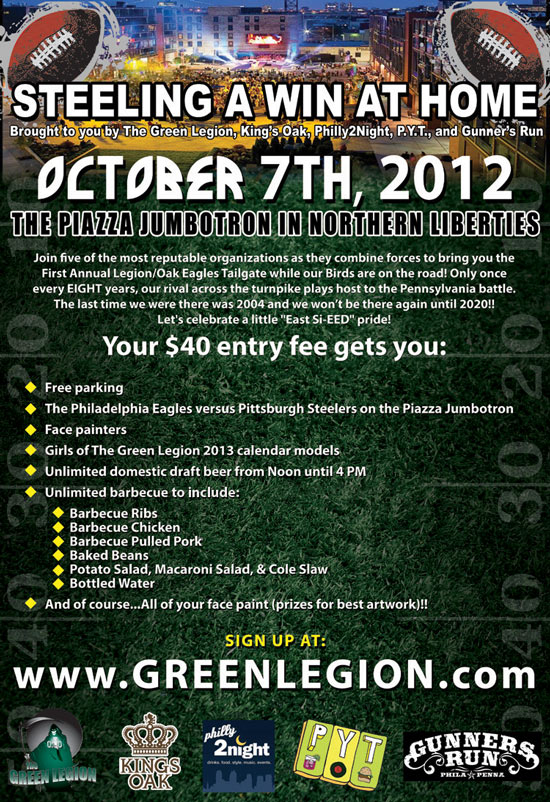 For more information about this trip, please contact Marilyn at marilyn@greenlegion.com or 267-779-1415. If you are sending a check, please make it payable to THE GREEN LEGION and mail it to:
720 N 5th St #201
Philadelphia, PA 19123